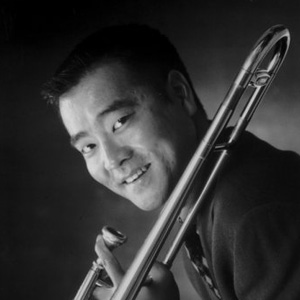 Brad Shigeta moved to New York City in the Fall of 1990 via Montreal.
Upon arriving in New York City to study with trombonist Jimmy Knepper, he met legendary Count Basie Orchestra trombonist Benny Powell.
Through Benny, he was introduced to Clifford Jordan and was groomed by Benny to take over his chair in the Clifford Jordan Big Band.
This led to many international and national tours as well as recordings and film scores with the Illinois Jacquet Big Band, the Dave Holland Big Band, the Lincoln Center Jazz Orchestra, Vince Giordano and the Nighthawks and the Duke Ellington Orchestra under the direction of Mercer Ellington.
He currently can be heard re-creating Jack Jenny and Jack Teagarden solos on the soundtrack for Martin Scorcese's blockbuster movie: "The Aviator" in the fall of 2004, as well as on the newly released CD of swing standards by Danny Aiello.
In the past few years, Brad has been able to return to the roots and the music that originally attracted him to become a musician: Traditional and Swing music. He is currently in a Duke Ellington alumni small group under the direction of Barrie Lee Hall, as well as a regular member of Vince Giordano's Nighthawks (music of the 10's, 20's), John Gill's Jazz Kings (traditional New Orleans music) and the Manhattan Ragtime Orchestra in New York City.
2008 Live from Atlantic City Danny Aiello Trombone
2007 It Was Only a Sun Shower Barbara Rosene Trombone
2004 Euphonic Sounds: Radical Popmusic from the Ragtime Era Manhattan Ragtime Orchestra Trombone
2004 Everything's Made for Love Barbara Rosene Trombone
2004 I Just Want To Hear the Words Danny Aiello Trombone
2004 The Aviator [Original Soundtrack] Group Member
2001 Deep Night Barbara Rosene Trombone
1997 DMP Big Band Salutes Duke Ellington [Digital Sound] DMP Big Band Group Member, Trombone
1996 Glenn Miller Project DMP Big Band Trombone
1996 Only God Can Make a Tree Mercer Ellington Trombone
1995 I Waited for You Densil Pinnock Arranger, Trombone
1994 Three House Tom Boras Trombone
1991 Down Through the Years: Live at Condon's New York Clifford Jordan Big Band Trombone